If you're looking for a modern stitch that looks complicated but really isn't, you've found it! This is one of my favorite stitches for a reason – quick and easy to work up, with gorgeous gorgeous texture. If you know how to single crochet and double crochet, you can do the Crossed Double Crochet stitch!
Quick note – this stitch is one of the 5 special stitches in the Cassidy Sampler Baby Blanket pattern! You can check it out here.
Scroll down for instructions and photo tutorial. Or, click here to pin the image below and save it for later.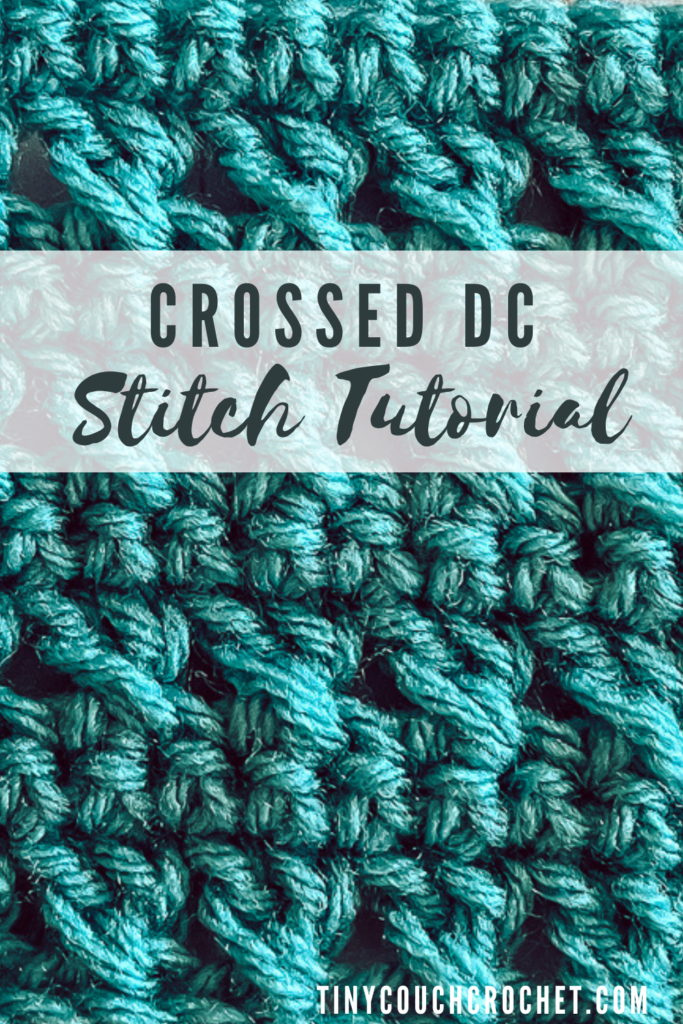 This post may contain affiliate links, which means I receive a small commission, at no extra cost to you, if you make a purchase using this link.
When to use the Crossed Double Crochet Stitch
This stitch is perfect for blankets and afghans. I'm actually using it in a baby blanket design right now – stay tuned! (Speaking of – if you want to be first to hear when new patterns are out and get discounts for paid patterns, you can subscribe to our newsletter here)
This stitch would also look great on clothing that doesn't need to be completely solid. It has great drape without being too loose. It also looks great with acrylic, cotton and yarn of natural fiber – but I would stay away from overly textured yarns. They'll cover up the cute little triangles that come out of this stich.
Skills to Know
If you know how to single and double crochet (using U.S. Terminology) you have the basics of this stitch! If you need to brush up on these skills or are a beginner crocheter, click here for a beginner's tutorial. This stitch is perfect for everyone, including beginners who want to try something new, and intermediate/advanced crocheters looking for a new stitch to add to their arsenal.
Abbreviations (U.S. Terminology):
Ch = Chain
St = Stitch
Yo = Yarn Over
SC = Single Crochet (insert hook into stitch, pull up a loop, Yo and pull through both loops on hook)
DC = Double Crochet (Yo, insert hook into next stitch, pull up a loop, Yo and pull through 2 loops, Yo and pull through remaining 2 loops)
Pattern Notes
The pattern is worked in rows and has a 2 row repeat.
Chain 1 at the end of Row 2 does not count as a stitch.
Chain 3 at the end of Row 3 does count as a stitch. Keep this in mind when counting stitches. When working your single crochet row, the final single crochet will be worked into the turning chain.
Crossed Double Crochet Pattern
Foundation: Chain an even number + 2.
Row 1: DC in 5th chain from hook, DC in previous chain (4th chain from hook), *Skip next available chain, Dc in next chain, Dc in skipped chain. repeat from * to last stitch, Dc in last stitch. (See Photos 1 – 9 in the Photo Tutorial below)
Row 2: Chain 1 and turn work. (Turning chain does not count as stitch). Single Crochet in first stitch and each stitch across. (See Photos 10 & 11)
Row 3: Chain 3 and turn work (chain 3 does count as stitch). Skip first stitch and DC in next stitch, Dc in skipped stitch, *skip next available stitch and DC in the following stitch, DC in skipped stitch, repeat from * to last stitch, DC in last stitch. (See Photos 12 – 15)
Repeat Rows 2 and 3 to end of project, ending in a row 2. Note: be sure to count stitches at the end of each row, keeping in mind that the chain 3 at the beginning of row 3 counts as a stitch.
Photo Tutorial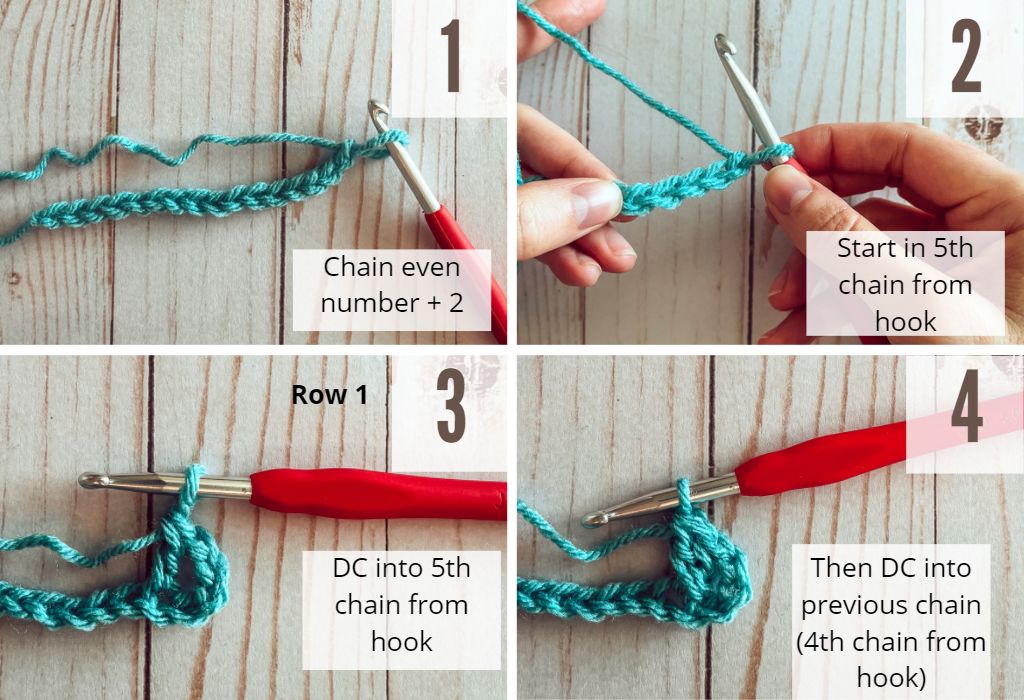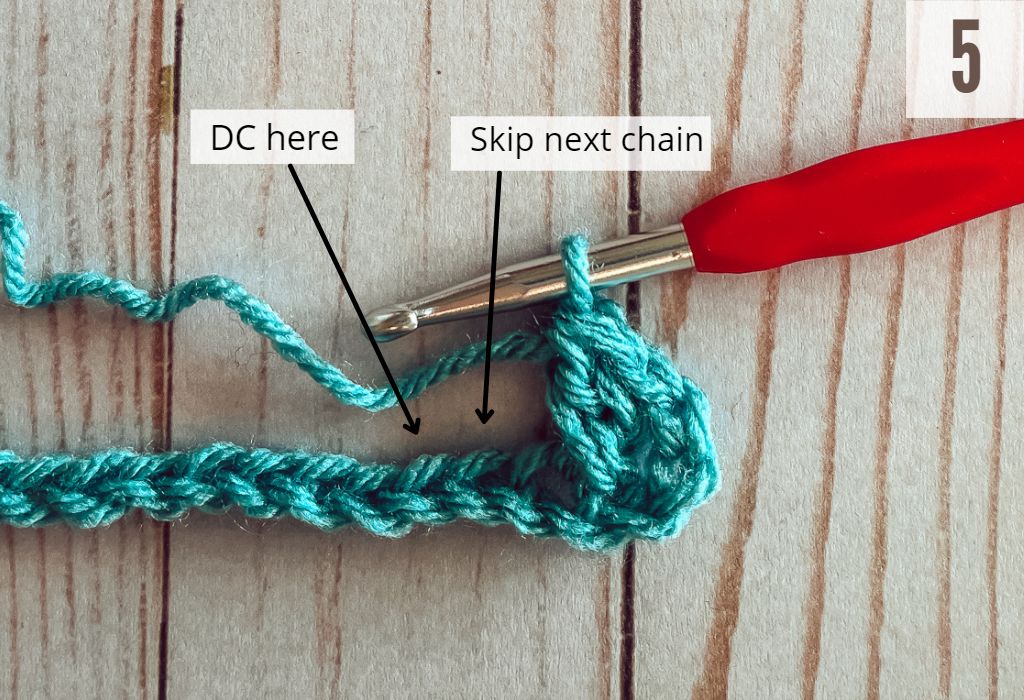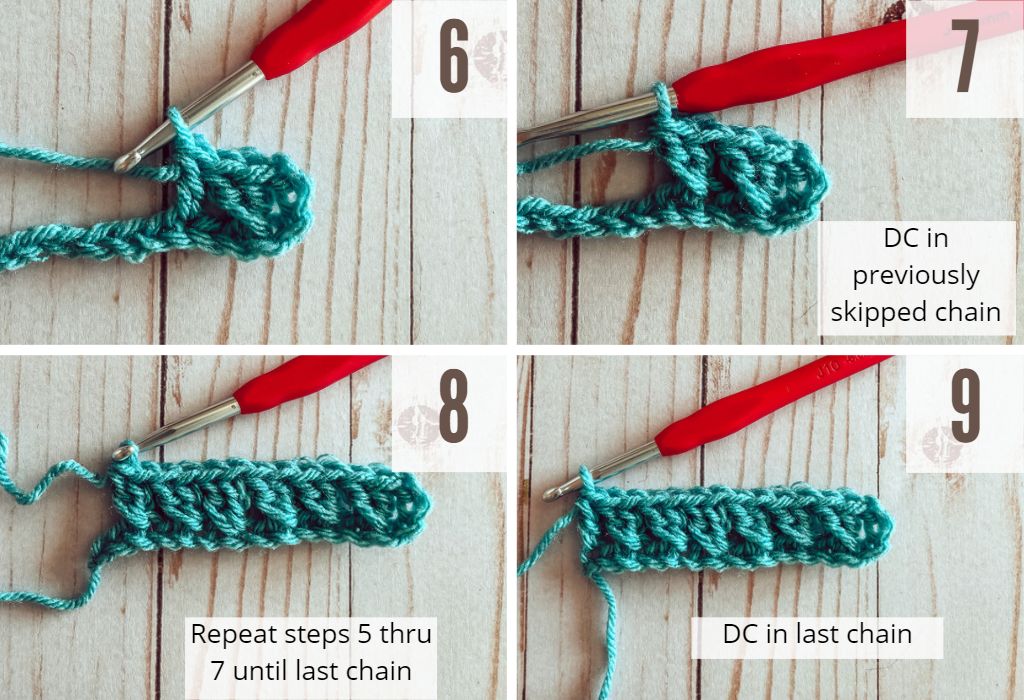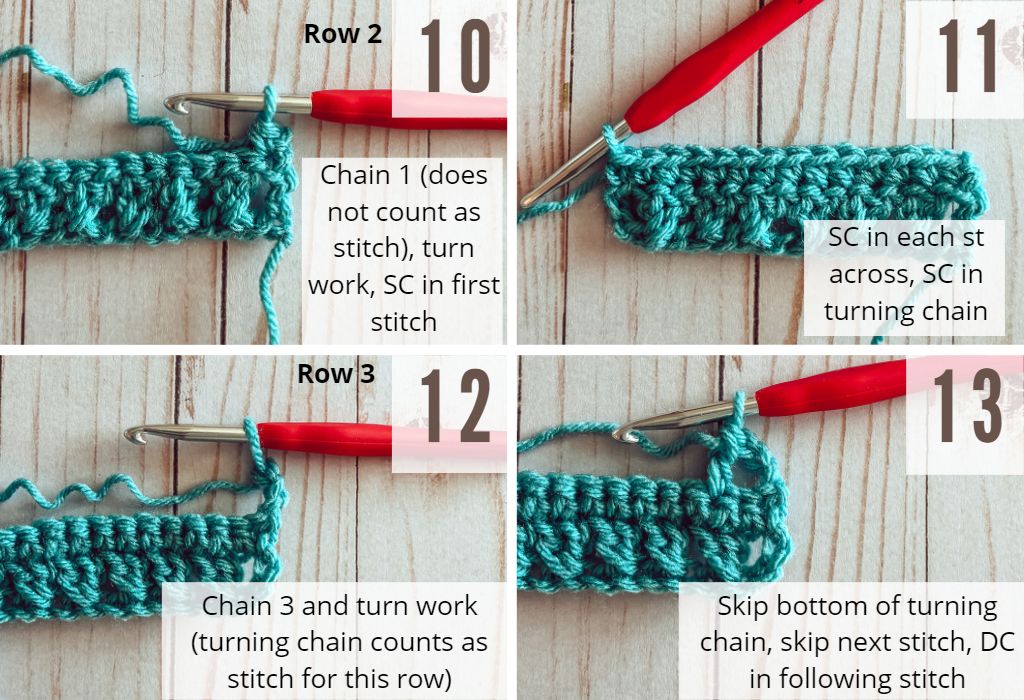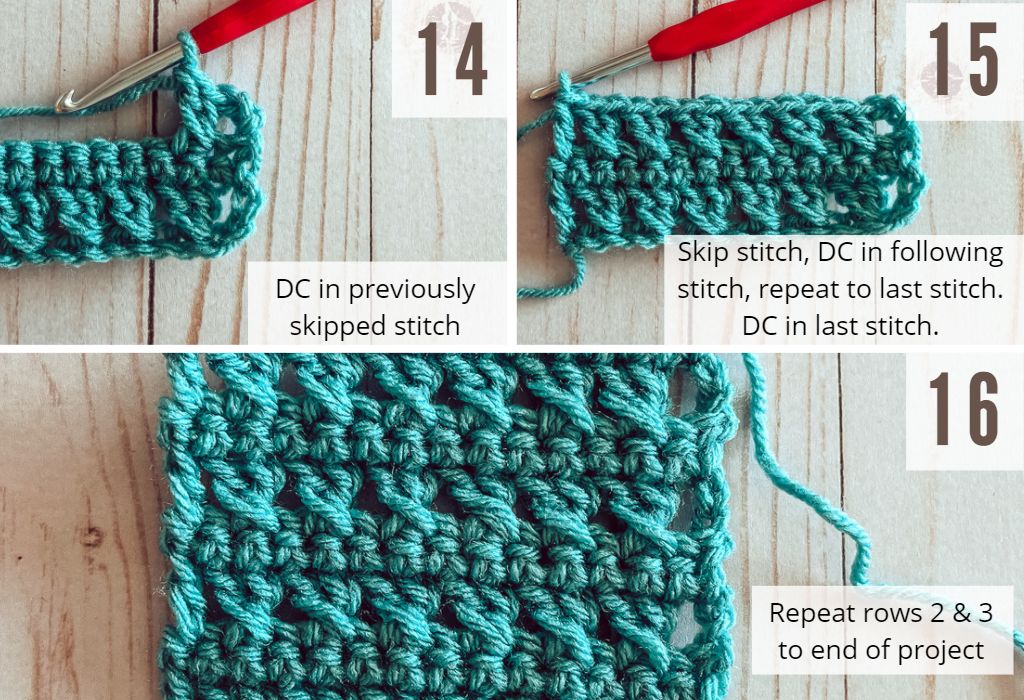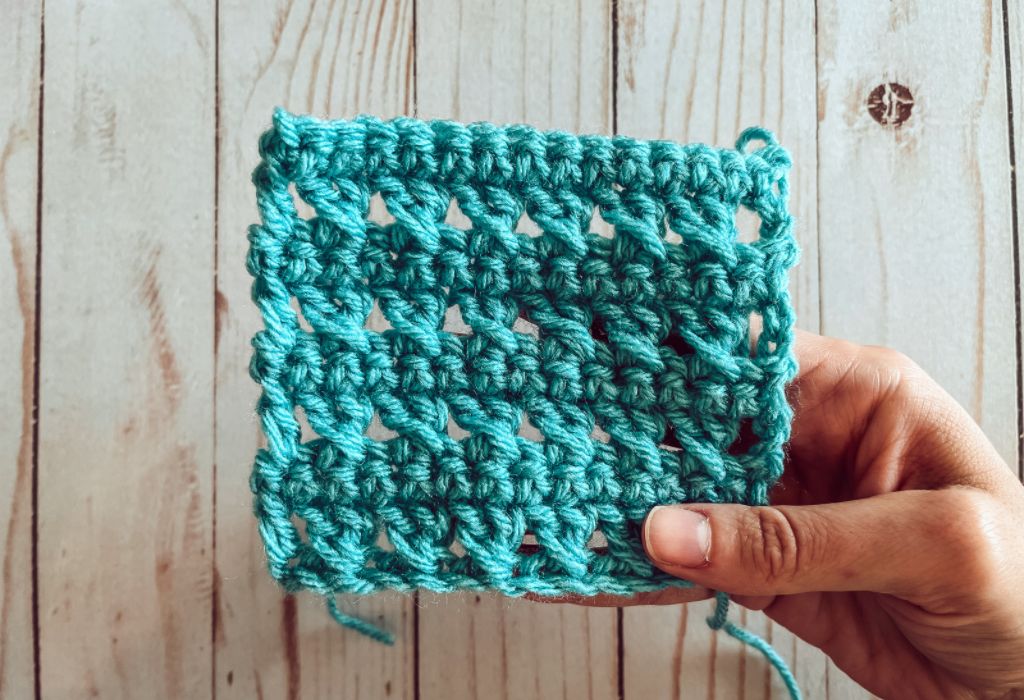 Congrats on learning a new stitch!
Looking for more modern crochet stitch tutorials? Check out these stitch tutorials below!
Happy Stitching! – Ashley