This stitch sampler crochet blanket was designed with both babies and makers in mind.  The textures are soothing, sweet and soft, and the variety of stitches will have you not wanting to put down your hook. And the best part? You can make the entire blanket with only one skein of Pound of Love!
Quick Links:
Scroll down for info on the pattern, skills needed, yarn used and recommended substitutes, etc. If you want to head straight to the pattern, check out the links below!
Want to save this for later? Save this to Pinterest by clicking on the image below so that you can easily come back 🙂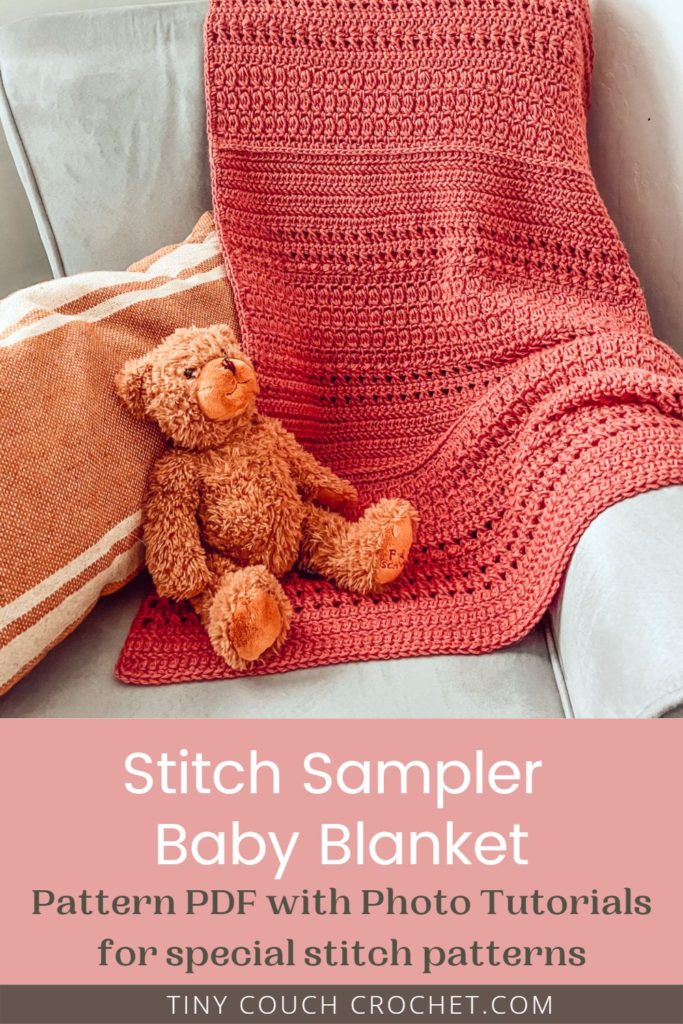 This post contains affiliate links, which means I receive a small commission, at no extra cost to you, if you make a purchase using this link.
Inspiration
I'm at the age where many of my friends are having baby showers – and I love it! Creating something for friends is so special. I asked my friends for color options and go from there!
I wanted this blanket to look modern and classic at the same time, and I think I achieved that! She wanted a modern pink and I wanted to switch up the stitches every so often for interest. Blankets, even small ones, can be hard to finish because of the monotony – so I gathered up my favorite modern stitches and after LOTS of swatching, the Cassidy Sampler Baby Blanket was born!
There are enough different stitches to hold your interest – but not so many that it gets frustrating. Once you get each section down this blanket flies by! I couldn't believe how quickly some of the pattern testers got through this one.
The pattern includes photo tutorials for all of the special stitches, and I've also included some helpful links in the "skills needed" section below! I'll be adding to the links as I add to my stitch tutorial library here.
The Yarn
I wanted this beautiful blanket to be affordable, and I didn't want to weave in a thousand ends – so my immediate go-to was Lion Brand's Pound of Love. It's my favorite jumbo ball of yarn because it's just so soft! Pound of Love is 100% Acrylic and comes with 1020 yards in one big ball. (And it's also machine washer and dryer safe – I approve this yarn as a mom myself!)
Most of the testers also used Pound of Love, however any soft/baby-approved worsted weight yarn will do! You'll need about 1020 yards, although two testers needed a little more for the border. Some actually used a different color for the border and they turned out beautifully!
Alternative yarns: Caron One Pound is a jumbo ball alternative, however it holds less yarn than Pound of Love so you may need to purchase 2 balls. I also find it to be not as soft. Some alternative worsted weight baby yarns include Lion Brand's Feels Like Butta and Bernat's Bundle Up-both of these are polyester and so, so soft! But you will have to weave in more ends 🙂
Skills Needed
You'll need to know the basic crochet stitches (single crochet, half double crochet, and double crochet in U.S. Terminology). There are also 5 specialty stitches included in this pattern, listed below. While I already have tutorials for some of these stitches here on the website, the pattern PDF includes photo tutorials for each stitch and how to work them for this specific pattern.
If you are brand new to crochet or need a refresher, check out my how to crochet post here. If you need a little help with certain stitches/techniques, see below.
Herringbone Half Double Crochet
This stitch is a half double crochet with a twist!
To make a Herringbone Half Double Crochet or HbHDC: Yarn over and insert hook into next stitch, pull up a loop so that you have 3 loops on your hook;  Pull 1st loop on hook through 2nd loop on hook, yarn over and pull through remaining two loops.
Crossed Double Crochet
This stitch is made with double crochets crossing over each other to create a fun pattern and texture. You can find a tutorial for this stitch here! (Specific instructions and photos are included in the pattern PDF)
Mini Puff Stitch
This stitch is just like a typical puff stitch, but with less loops on your hook. It could also be called a half double crochet cluster. The stitch pattern uses MPS alternating with single crochets to create texture.
To make a Mini Puff Stitch (MPS): Yarn over (Yo) and insert hook into next stitch, pull up a loop (3 loops on hook), Yo and insert hook into same stitch, pull up a loop (5 loops on your hook), Yo and pull through all 5 loops.
Double Crochet Cluster
There are all kinds of double crochet clusters and stitch patterns out there – this stitch pattern is unique to this blanket, and full instructions are included in the PDF. However, to make the cluster itself see below:
To make a Double Crochet Cluster (DcCl): Yarn over (Yo) and insert hook into next stitch, pull up a loop, Yo and pull through 2 loops on hook, Yo and insert hook into same St, pull up a loop, Yo and pull through 2 loops on hook, repeat 1 more time so that you have 4 loops on hook, Yo and pull through all loops on hook.
Camel Stitch
The camel stitch can add a beautiful detail to any project! It's placed a few times here to add detail/texture. You can find my photo tutorial on my website here (although specific instructions and photos are included in the pattern PDF)
Materials Needed
Lion Brand Pound of Love  (Weight 4, 16 oz/ 454g, 1020yd/ 932m) yarn in the color Terracotta or similar worsted weight yarn

Approximately 1 skein (1020 yd)

Hook: US J/ 6.0 mm
Yarn Needle 
Scissors 
Measuring Tape
Optional: Stitch Markers (see Notes)
Guage & Size
Guage: (Measured Unblocked)
Gauge Swatch: Chain  21 and work 12 rows of Herringbone Half Double Crochet
4" x 4" = 12 stitches x 9½ rows (Unblocked. Measure interior stitches for best results)
Size:
Approximately 32″ wide by 34″ long.
Final Thoughts
This blanket is perfect for crocheters who want to learn more stitches or who like patterns that change stitches every so often.
I will recommend keeping tension as consistent as possible, and maybe even changing hook sizes for different stitches if you feel your tension changing too much. That said, adding a border smoothes everything out nicely, even before blocking!
The border included in the pattern is a simple single crochet border, but I can see some other borders working nicely as well – just keep in mind you may need another ball of yarn to do so. One tester used the crab stitch border and it was gorgeous!
If you have any questions, comment down below!
Looking for more blanket patterns? I have two free on the blog! The Tiny Waves Baby Blanket is made with blanket yarn to look like ocean waves! And the Patton Throw is a simple, modern color-blocked throw blanket.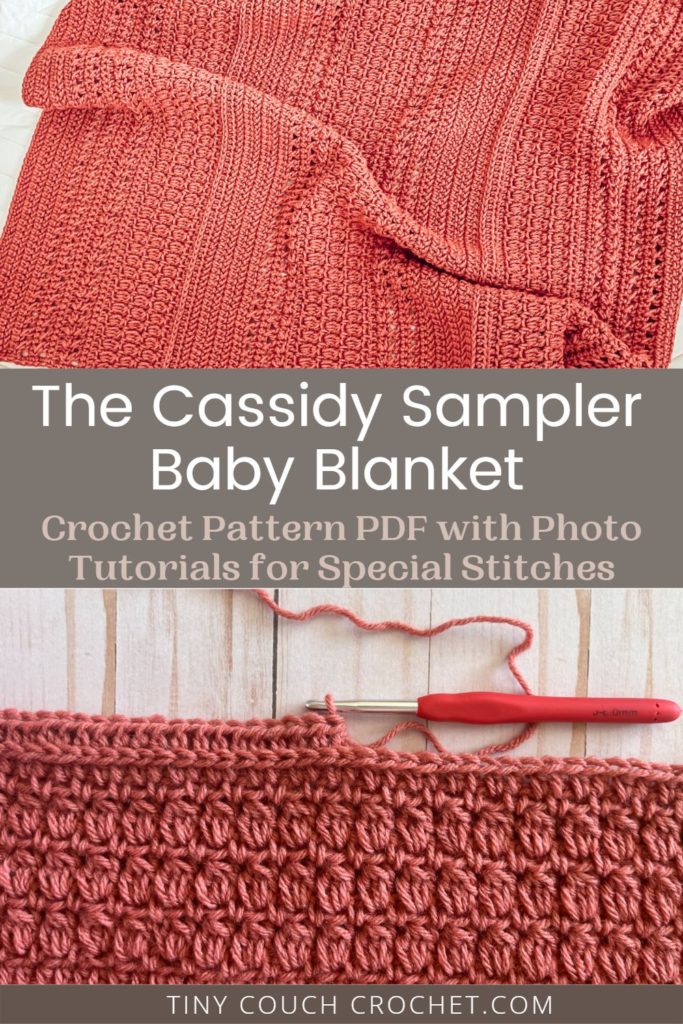 If you make a Cassidy Sampler Baby Blanket, I'd love to see it! Use the hashtags #cassidysamplerblanket and #tinycouchcrochet and tag me in social media posts so that I can share! I am @Tinycouchcrochet on both Instagram and Tiktok. Can't wait to see your makes!
-Ashley