Crochet Face Scrubbies and/or Makeup Removers are my new favorite quick project. I consider sitting down and crocheting something for myself to be self care – why not create a self care item while you're at it? Self care now for self care later! A set of these would also make a great gift or craft fair item.
This post may contains affiliate links, which means I receive a small commission at no extra cost to you if you make a purchase using this link.
To save this pattern for later, Pin it here!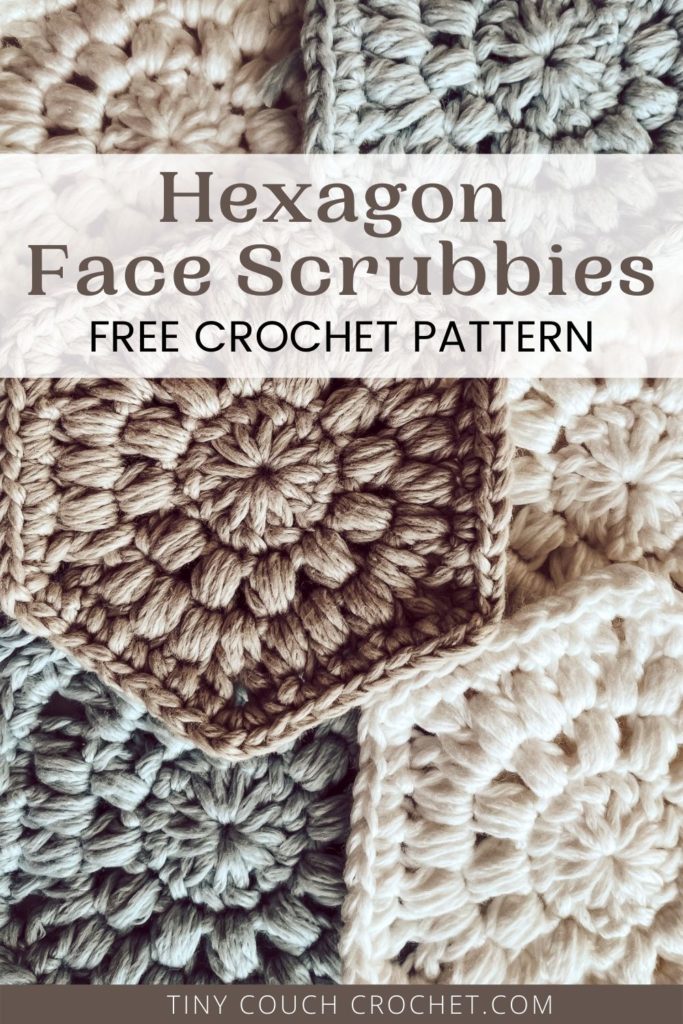 The Shape
I just had to make these into Hexagon shapes. Hexagons are cute, but simple, repetitive and quick to work up. There are a few different ways to make the Hexagon shape, but in this pattern I started with a circle and didn't start forming the Hexagon shape until round 3. Scroll down for the full pattern.
The Yarn
I highly recommend going with a cotton yarn, either 100% cotton or a high percentage cotton blend. Cotton yarn is highly absorbent, and easily reusable.
I used Creme Cotton yarn by Loops and Threads. Some other great options are Lion Brand 24/7 Cotton Yarn, and Lily's Sugar N' Cream.
How to use your Face Scrubbies
They can be used just like a washcloth. Soak a scrubby in water, squeeze excess water, and scrub your face as you normally would. Grab a new clean scrubby for the next day. To wash, throw scrubbies in a mesh laundry bag and wash and dry in a washer and dryer like you would a washcloth.
I recommend making a set of 7 to sell or as a gift – one for each day of the weak. You can even crochet a cute bag to hold them in.
Skills Needed
This pattern is beginner friendly, but there are a few skills you'll need to know.
This project starts with a Magic Circle. While I highly recommend starting it this way, you can also replace the magic circle with the following: Chain 4, slip stitch into first chain. This will create a ring. Continue pattern as listed below (Chain 2, and make each Double Crochet by inserting hook into the center of the ring you made)
You'll also need to know basic crochet stitches (Single and Double crochet) and how to do a Puff stitch (see below). If you need a refresher on basic crochet stitches and techniques, check out my How to Crochet post here.
Materials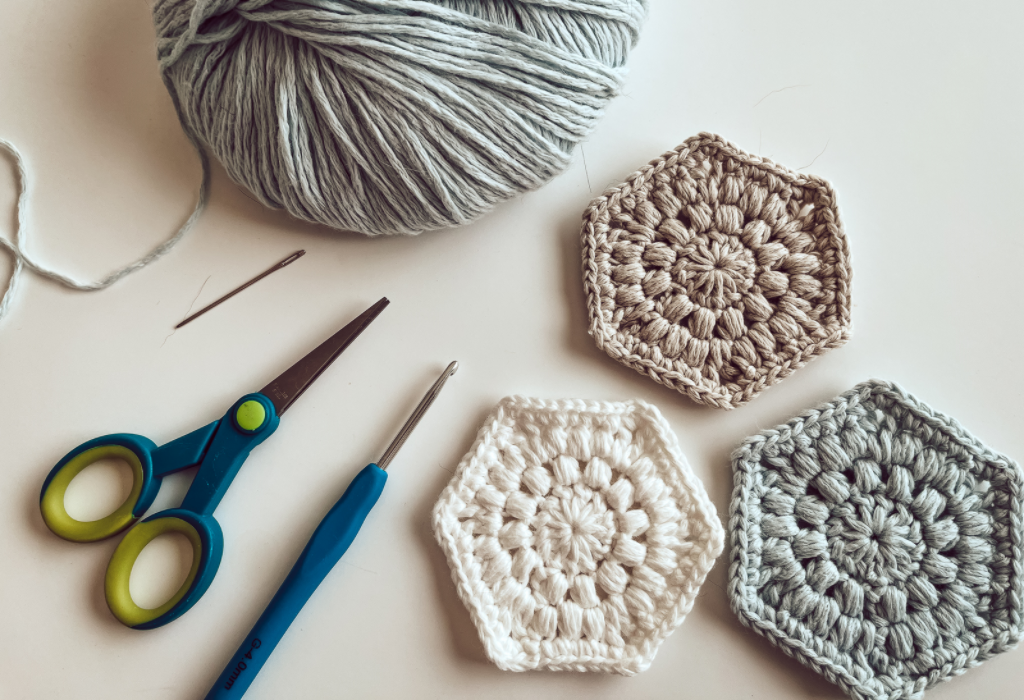 Here are the materials you'll need:
Worsted Weight (Size 4) Cotton Yarn (I used Creme Cotton by Loops & Threads)
Size G (4.0 mm) crochet hook. My favorite hooks are from this ergonomic hook set!
A yarn or tapestry needle
Scissors
Gauge & Size:
Guage is not necessary for this project. I used a 4.0mm hook and worsted weight yarn for the sizing below.
Rough size (from one flat edge to another): 3.5 inches
Abbreviations (U.S. Terminology):
Ch = Chain
St = Stich
SlSt = Slip Stitch
Yo = Yarn Over
Sc = Single Crochet
Dc = Double Crochet
Puff = Yo, Insert hook into stitch/chain, pull up a loop (3 loops on hook), *Yo, insert hook into same stitch/chain, pull up a loop (5 loops on hook), repeat from * 1 more time so that there are 7 loops on hook. Yo and pull through all 7 loops.
Hexagon Reusable Face Scrubbies Free Crochet Pattern
Notes: Project is crocheted in the round. Each round will end with a slip stitch, then the next round begins by chaining the amount noted. Continue in the same direction (Never turn work). Photo tutorial is given after pattern.
Start with a Magic Ring: (See optional alternative under 'Needed Skills')
Round 1: Chain 2 (does not count as stitch), Double Crochet X 12 into Magic Ring, SlSt into top of first DC (12 St)
Round 2: Chain 2 (does not count as stitch) Puff into bottom of chain, Ch 1, *Puff into next St, Ch 1, repeat from * 10 more times, SlSt into top of first Puff (24 St, including Puffs and Chains)
Round 3: Chain 2 (does not count as stitch), Puff & Ch 1 in next 3 Stitch, *(Dc, Ch 2, Dc) in next St, Puff & Ch 1 in next 3 St, repeat from * 4 times so that you form 6 sides to a Hexagon. DC in last St, Ch 2 and SlSt to top of Puff at beginning of round. (59 St)
Round 4: Chain 1 (does not count as stitch), SC into the next 6 Stitches/chains, *(Sc, Ch 1, Sc) into chain space that forms hexagon corner, Sc 7 over the flat edge, repeat from * 4 more times. In last chain space, Sc, Ch1, Sc, then SlSt into first SC in round. (77 St)
Fasten off and weave in ends.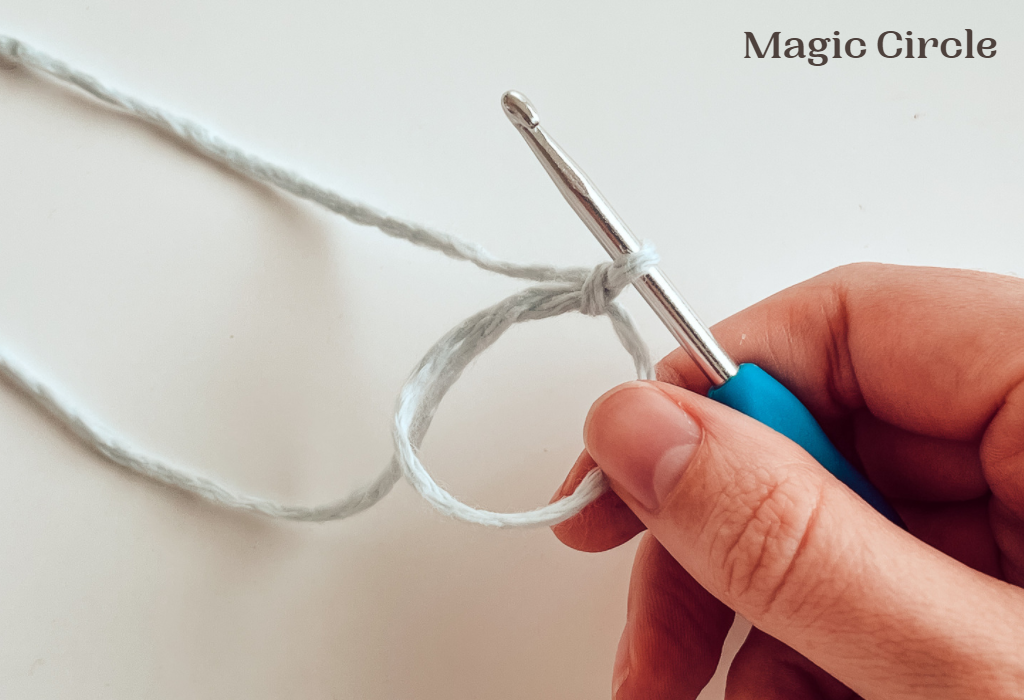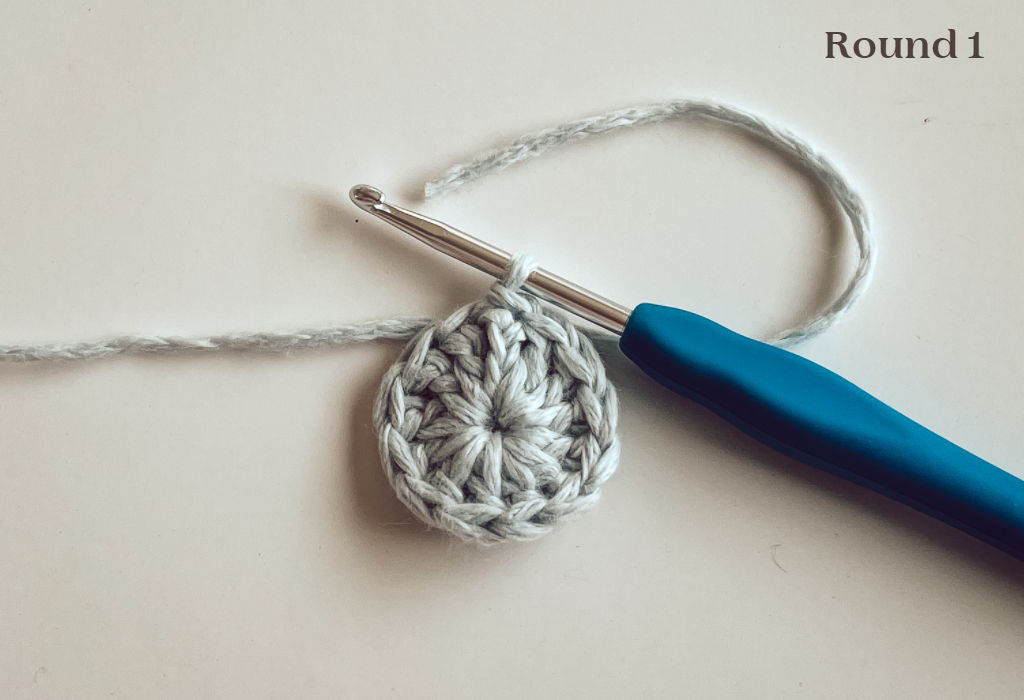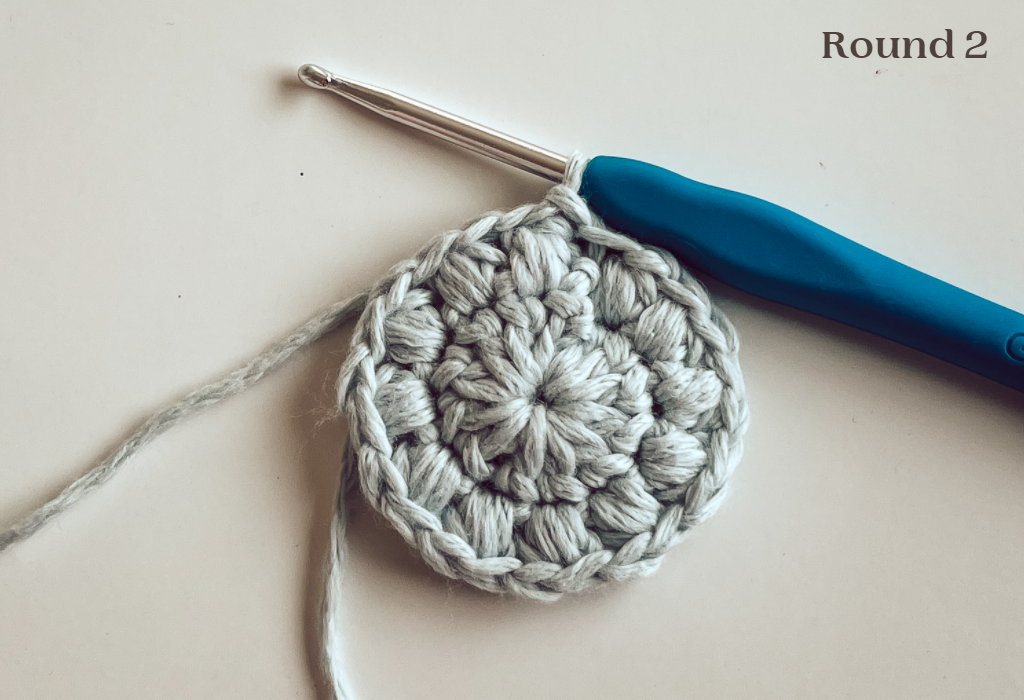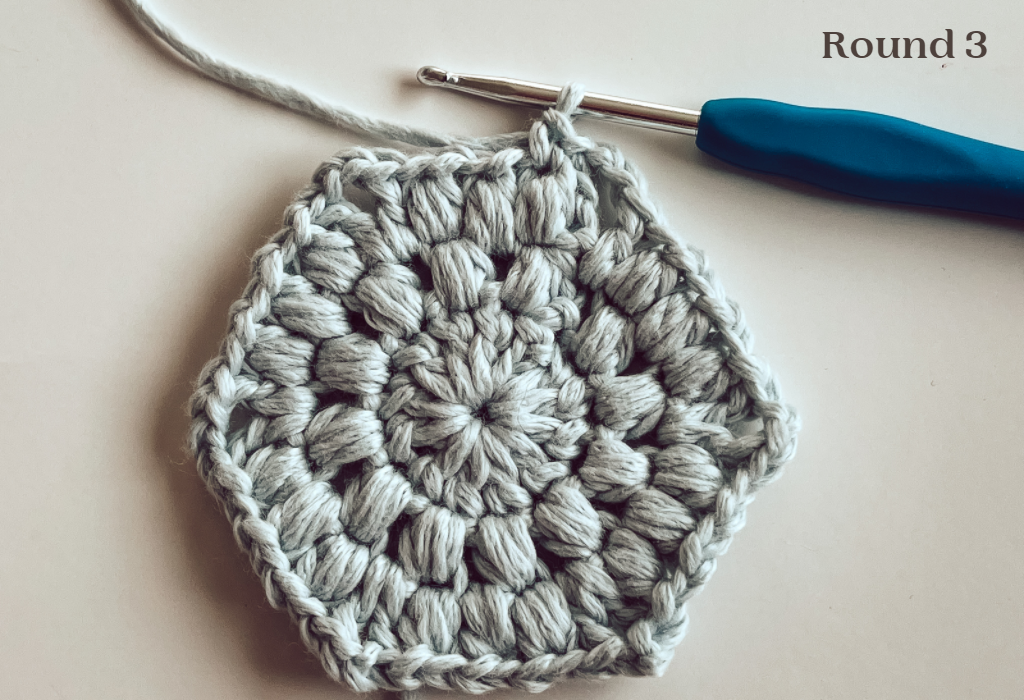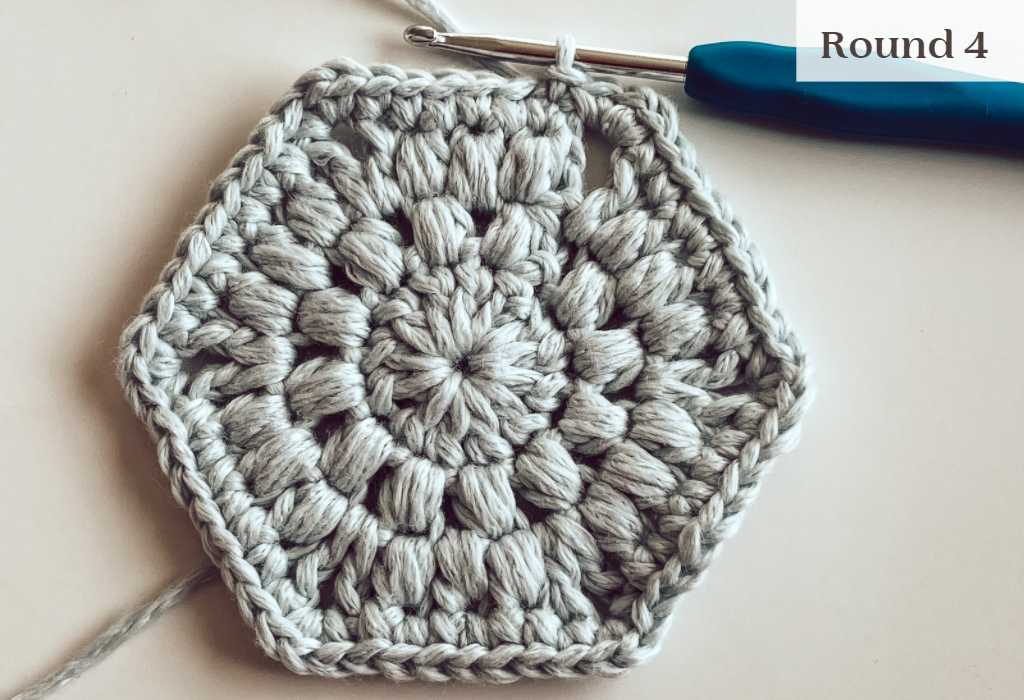 These were so fun to make, once I finalized the design i couldn't stop making them. I hope you enjoy them too!
If you make some hexagon reusable face scrubbies, please tag me in social media posts so that I can share! I'd love to see them. I am @Tinycouchcrochet on both TikTok and Instagram.
Looking for more quick patterns?
-Ashley