If you're like me, you like to break up big projects with a quick make or two. Or maybe you sell at craft shows and fall markets. This headband was designed to be a 30 minute crochet project! Give or take a few for your experience and crochet style, of course.
I really had makers in mind when designing this headband and I'm so excited about how it turned out! I think it has enough detail to be unique, it quick enough for makers to sell, and its cozy and warm!
You can find the full pattern with photo tutorials of the main stitch in PDF format for a small fee on Etsy (click here). Or, scroll down for the free version of the pattern.
Click here to pin this image and save it for later.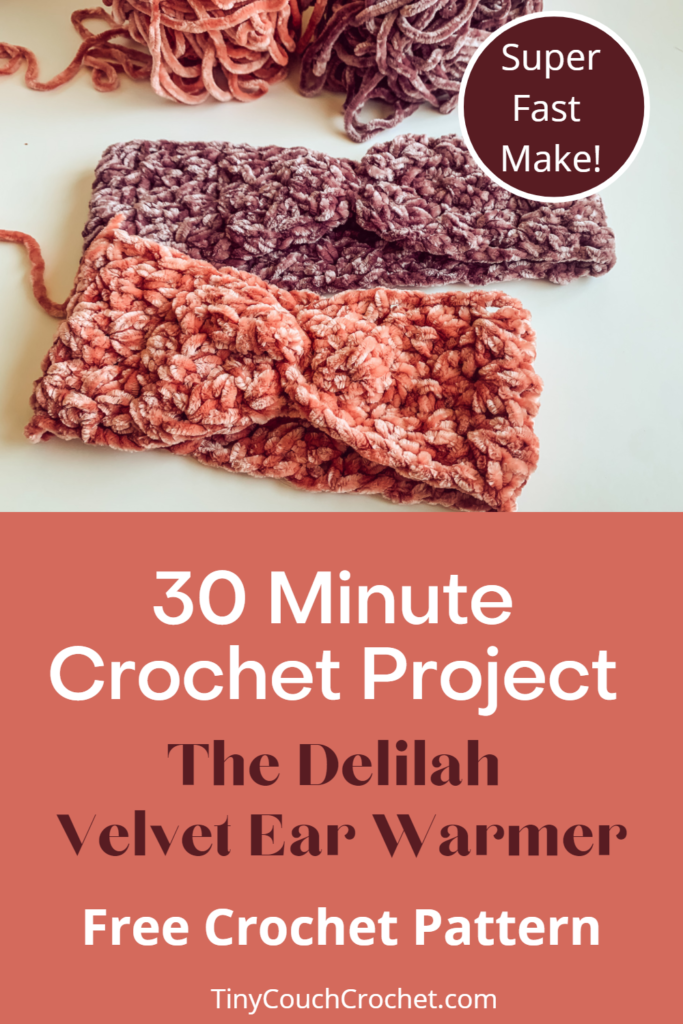 This post contains affiliate links, which means I receive a small commission, at no extra cost to you, if you make a purchase using this link.
Don't be scared to work with Velvet.
I know it can be daunting – finding the top stitch isn't easy. But just like my Autumn Velvet Pumpkin Pattern, you don't to! With the exception of the first row, this headband is made by crocheting entirely into chain spaces. Chain spaces are much easier to find than top stitches – and I even had a tester tell me they made one while watching TV.
I used Bernat Velvet in the colors Shadow Purple and Clay Rose to make the ear warmers/ headbands shown in these pictures, but any Weight 5 velvet yarn will do. Of course you can use other types of yarn, just make sure it's a weight 5, and know that this pattern will be warmer with velvet yarn. For example, acrylic yarn will provide more stitch definition, but also allow more wind to get through. Either way, they sure are cute!
Is this really a 30 Minute Crochet Project?
That depends on how long you've been crocheting, what size ear warmer / headband you have crocheted, your crochet style, if this is your first time making this ear warmer or your 20th. I had some testers take 20 minutes and others 40, but most were right on the money. The adult size takes me 29 minutes start to finish 🙂
The point is, these ear warmers are very quick for how cute they are!
If you are new to crochet or need a refresher, check out my how to crochet post here.
What You'll Need
Here are the materials you'll need:
1 skein of Bernat Velvet Weight 5 Yarn or similar. I used the colors below:
Size 6.5mm crochet hook (I like to use the hooks from this crochet hook set)
A yarn or tapestry needle
Scissors
Measuring Tape
Guage & Size
Guage: (Measured Unstretched)
3″ = 3 V Clusters
4″ = 5 rows
Size:
Finished band width is approximately 3.5″ wide. See Size Chart below for band circumference. Note that for the best fit, make band length 1″ shorter than head circumference.
| | | |
| --- | --- | --- |
| Age | Head Circumference (inches) | Headband circumference (unstretched) |
| Baby (3m +) | 16 | 15 |
| Toddler | 18 | 17 |
| Child | 20 | 19 |
| Teen/Adult S | 21 | 20 |
| Adult M/L | 23 | 22 |
Ear Warmer Size Chart
Abbreviations (U.S. Terminology)
Ch = Chain
St = Stitch
Yo = Yarn Over
DC = Double Crochet
Dc2tog = Double Crochet 2 Together (Yarn over, insert hook into chain or stitch, pull up a loop, yarn over and pull through 2 loops on your hook, yarn over and insert hook into same chain or stitch, yarn over and pull through 2 loops on your hook, yarn over and pull through remaining 3 loops on hook)
V Cluster = Dc2tog, Chain 1, Dc2tog into same chain, stitch or chain space
The Delilah Velvet Ear Warmer Pattern
Notes:
This ear warmer / headband is made by crocheting a long rectangle, and then sewing the ends together to make the crossed look.
To make the headband width skinnier or wider, add or subtract 3 chains to the starting chain.
See Abbreviations above for V Cluster instructions. Full photo tutorial is included in the affordable PDF version on Etsy.
Chain 13.
Row 1: Into 5th chain from hook, V Cluster, *Skip 2 chains, V Cluster in next chain, repeat from * until last 2 chains. Skip 1 chain, Dc into last chain (10 St)
Row 2: Chain 3 and turn work. Skip 1st stitch, *V Cluster in next chain space, skip 2 stitches, repeat from * until last 2 stitches. Skip 1 stitch, Dc into turning chain (10 St)
Repeat Row 2 until you've reached the length shown in the Size Chart above.
Finishing: Fasten off by leaving a long tail to sew the ends of your headband closed.
To close band: fold ends over each other as shown in photos 1-3 below, so that there are 4 layers. Use yarn needle to sew through all 4 layers (this is the backside of the headband). When you get to the other side, secure tail by tying it to the yarn tail from the start of the project with a couple of knots (Photo 5). Cut off any excess close to the knot. Flip headband inside out. Finished!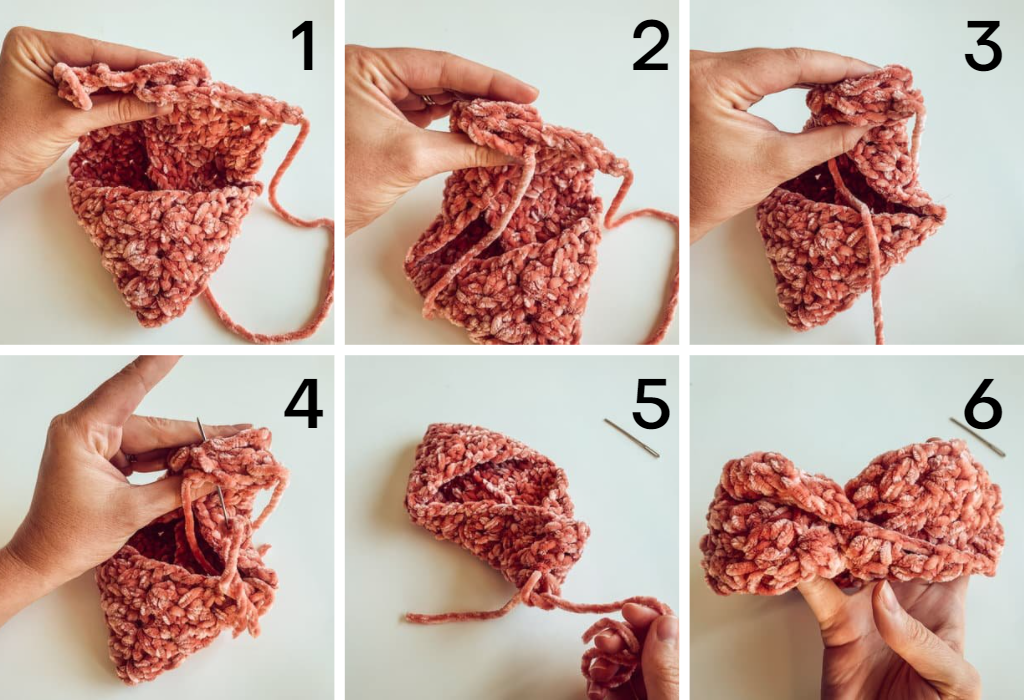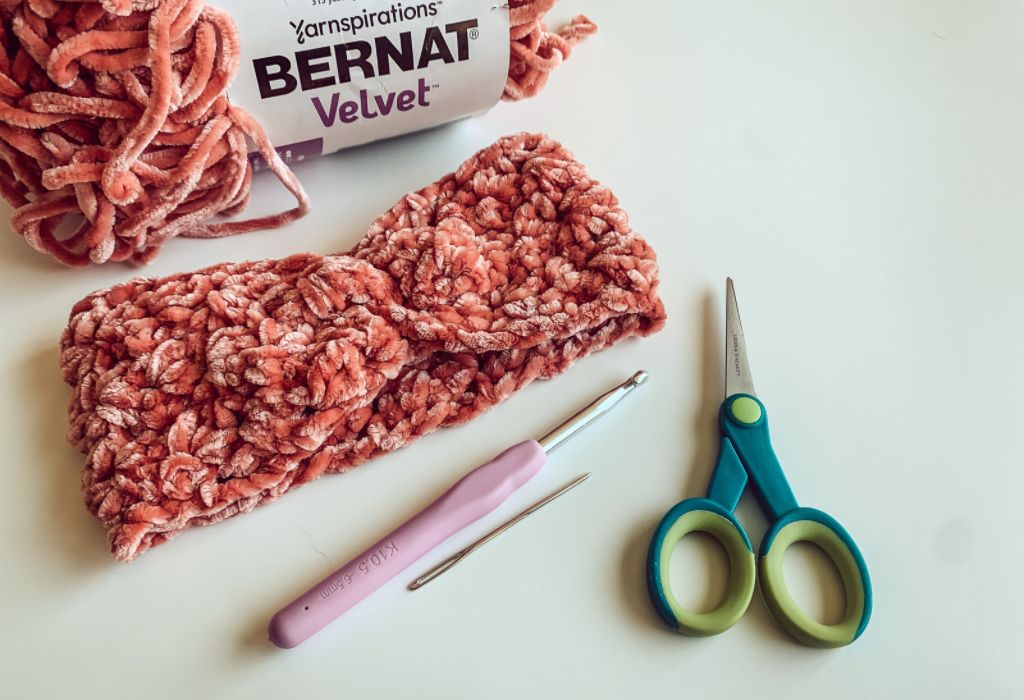 Looking for more cute headband patterns? Check these out!
If you make a Delilah Velvet Ear Warmer, I'd love to see your work! Please use hashtag #tinycouchcrochet and tag me in social media posts so that I can share! I am @Tinycouchcrochet on both Instagram and Tiktok. I hope you enjoyed this free, quick crochet ear warmer pattern and I can't wait to see your versions!
-Ashley