Raise your hand if you've ever wanted to add a personal touch to a gift or an item you're bringing to a holiday party, but didn't plan ahead? Me me me! Hence the Modern Wine Bottle Cozy crochet pattern was born.
This pattern is QUICK, fun, and perfectly adds that personal touch! Grab a bottle of wine and some Dishie yarn and you have the perfect holdiay gift in an hour or two!
Quick Links: Modern Wine Bottle Cozy Crochet Pattern
Scroll down for info on the pattern, skills needed, and yarn used. If you want to head straight to the pattern, check out the links below!
Want to save this for later? Save this to Pinterest by clicking on the image below so that you can easily come back 🙂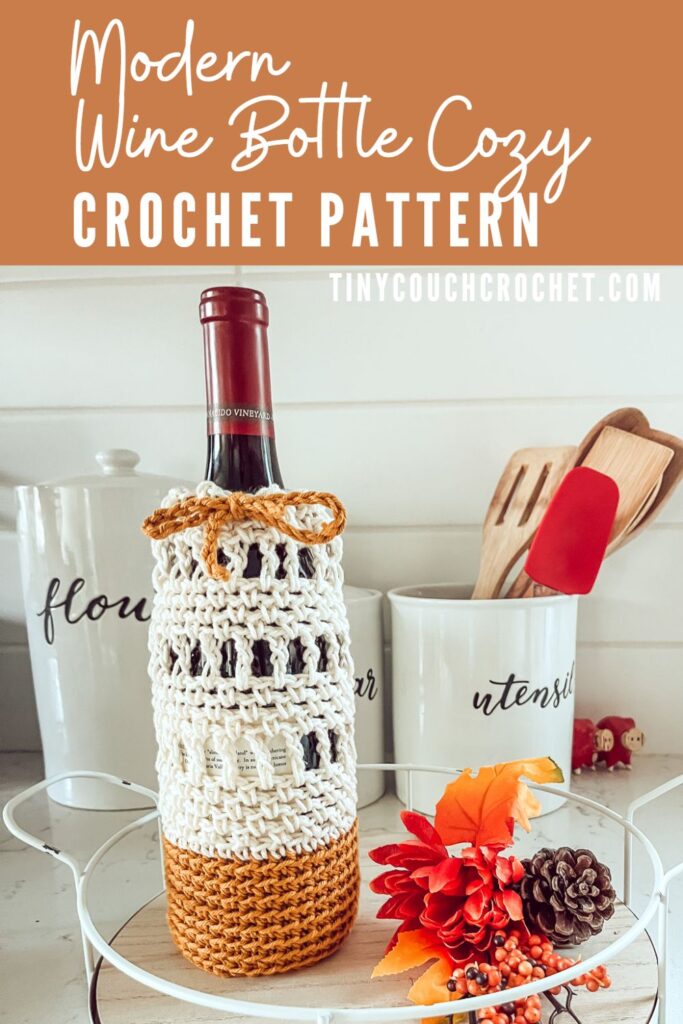 This post contains affiliate links, which means I receive a small commission, at no extra cost to you, if you make a purchase using this link.
Inspiration
I knew I wanted a modern look to make this a sweet gift for adults of all ages/generations. I love stitches with modern looks to them, but I also wanted it to be fun to make – so this pattern includes the moss stitch, single crochet in the front loop only, and extended double crochets!
I also wanted a two-toned look to add to the modern feel and help create that personal touch – more colors = more fun options! And We Crochet's Dishie line has SO MANY gorgeous colors, I had to try one of their new ones (Butterscotch!)
The Yarn
Dishie is my go-to yarn for anything in the kitchen! It's no contest. The yarn is soft, durable, and the range of colors is just gorgeous – and they keep adding more. I used Butterscotch for the base and drawstring, and Swan for the rest. You can purchase the yarn from WeCrochet's website here, or click here to buy the kit (yarn and pattern included!)
Dishie is a 100% cotton, Weight 4 yarn. I always recommend using yarns that are 100% cotton for kitchen items in case they come near heat. While that's not so much a concern for a wine bottle cozy, Dishie is durable, soft, and washer and dryer safe.
Skills Used
You'll need to know the basic crochet stitches (pattern is written in U.S. Terminology) and how to work in the round. There are also a few specific techniques/ stitches that are in the pattern with photo tutorials to help if you've never tried them before.
This pattern is categorized as Intermediate, however I think advanced beginners would have a lot of fun learning new skills! I am always open to answering questions, just comment below or send me a DM on instagram.
If you are brand new to crochet or need a refresher, check out my how to crochet post here.
Techniques Used
Magic Circle (alternative included)
Increasing to creat a flat circle
Crocheting in the round
Crochetint in the back loop of a stitch
Invisible join to hide color change in the round
Extended Double Crochet
Materials Needed
WeCrochet's Dishie yarn (Weight 4, 190 yards/ 100 grams)

1 Skein of Swan (55 yards)
1 Skein of Butterscotch (55 yards)

Hook: US 5.5 mm or hook needed for gauge
Darning Needle 
Scissors 
Measuring Tape
Optional: Stitch Markers
Size
Height = 8″ to 8.25″
Base = 3.25″ to 3.5″ in diameter
Final Thoughts
This project is quick, fun, and maybe you'll learn a couple new techniques!
If you have any questions, comment down below!
Looking for more holiday patterns? Check out these free pumpking patterns below!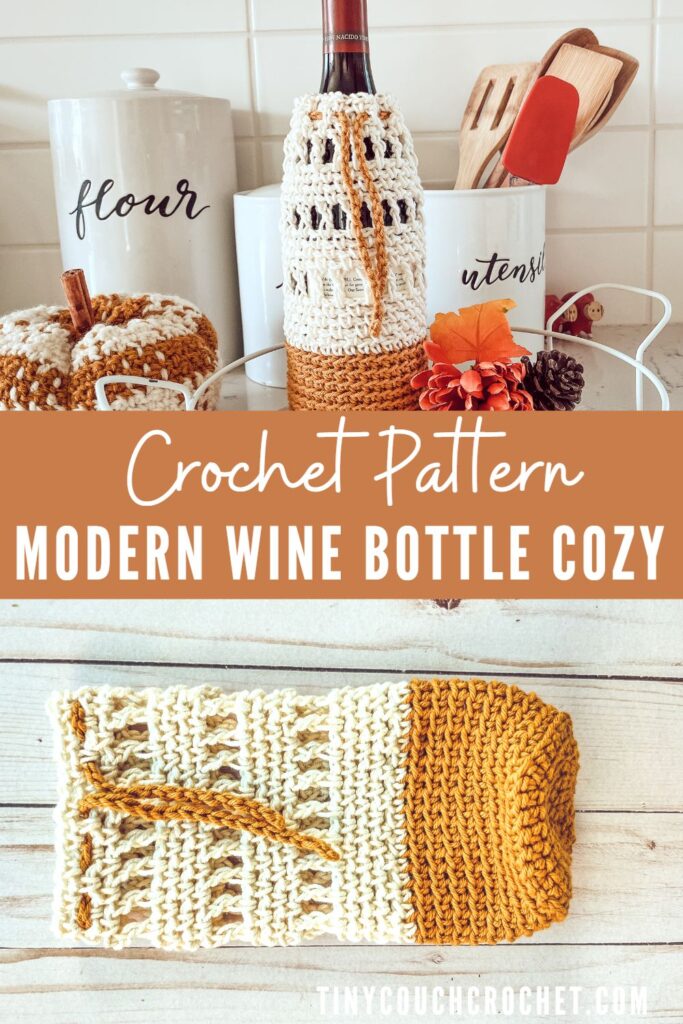 If you make a cozy I'd love to see it! Use the hashtag #ModernWineCozy and tag me in social media posts so that I can share! I am @Tinycouchcrochet on both Instagram and Tiktok. Can't wait to see your makes!
-Ashley