Looking for a cozy sweater pattern that you know will fit in all the right places? The Persephone Pullover is easy, fun, quick to work up, and best of all – it's made to fit! The pattern includes lots of customizations including 2 different lengths (cropped or full length!) It's a size-inclusive crochet sweater pattern that comes in 9 different sizes, designed for bust sizes of 28″ to 62″
The unique texture is made up of simple stitches that give a big impact, and little details like the knit-like ribbing (it's crochet!) make this a special piece. It was a tester favorite and I hope you love it as much as I do!
Quick Links:
Scroll down for info on the pattern, skills needed, yarn used and recommended substitutes, etc. If you want to head straight to the pattern, check out the links below!
Want to save this for later? Save this to Pinterest by clicking on the image below so that you can easily come back 🙂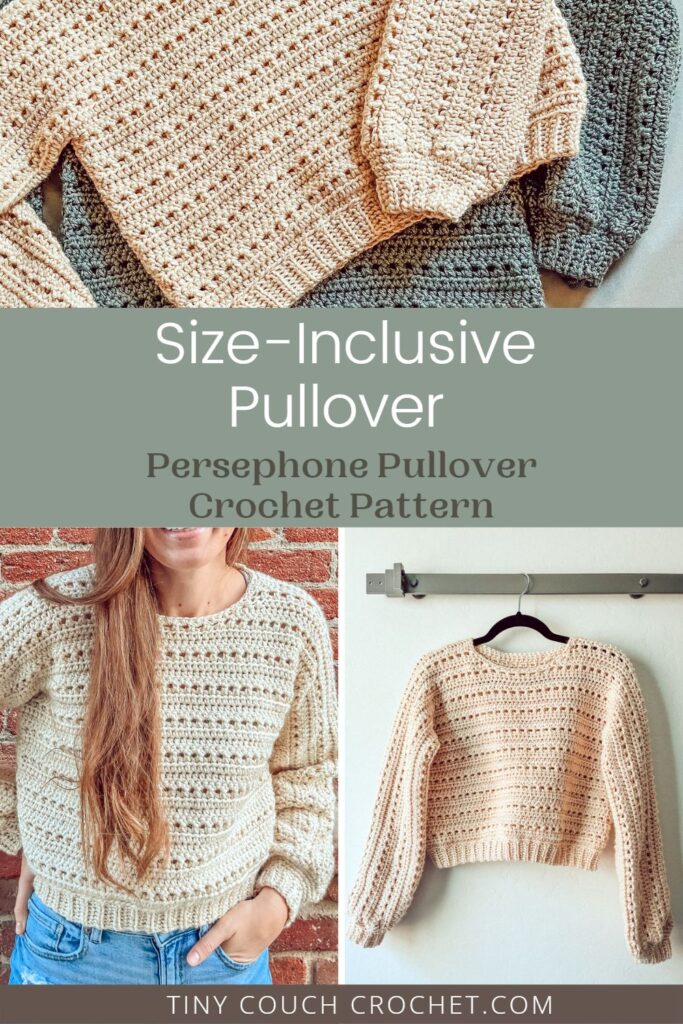 This post contains affiliate links, which means I receive a small commission, at no extra cost to you, if you make a purchase using this link.
Inspiration
I'm always inspired by architecture, and especially patterns I notice within architecture. I wrote down "rows of mini arches going straight across the sleeves" in my notebook so I was thrilled when testers described the texture in this pattern as rows of mini arches!
I also wanted to get this look in the simplest way possible. If texture is too complicated it takes the fun out of crochet! So I used single crochets, single crocheting 2 together, chains, half double crochets and double crochets to get the look – that's it! It's a 4 row repeat which I find helps me get through patterns quickly, because I'll "just do another 4 row repeat" instead of "one more row" and next thing you know you're done with a whole panel!
I also wanted the "stripes" of arches to go straight across the sleeve, so each panel is a T-shaped panel. The sleeves are built into the panel as the top part of the T. To make sure the sleeves are still customizable, in the beginning of the pattern you're instructed to select two sizes – a size based on bust size (main size) and a sleeve width size. This allows the user to ensure the sleeves fit just right even though they're built into the panel! (Some examples would be a 3XL bust with a 2XL sleeve, or L bust with a XL sleeve)
The most advanced part of the pattern might be the ribbing, which is done out of Half Double Crochet Slip Stitches or Yarn Over Slip Stitches to get the faux-knit ribbing look. A photo tutorial is provided with the pattern, or you can check out this photo tutorial here.
The Yarn
I am big on using affordable yarn in my designs so that crocheters can see what the pattern will look like in these kinds of yarns. I used LionBrand's Heartland yarn (Weight 4, 100% acrylic). It was gorgeous to work with – so soft for an acrylic yarn and the slight shine gives this pattern a wow-factor!
Pattern testers used all kinds of yarn with this one – from Heartland to other lionbrand yarns to gorgeous indie hand-dyed wool to two strands of Aunt Lydia's thread held together! The results were all gorgeous! Check out the hashtag #PersephonePullover on instagram to see all of their gorgeous sweaters and get color ideas/inspo.
Skills Needed
You'll need to know the basic crochet stitches (single crochet, half double crochet, and double crochet in U.S. Terminology). The ribbing is a specialty stitch with a photo tutorial in the pattern.
This pattern is partially made to measure, so you'll also need to be able to do some minor calculations to get row counts that will fit your body – I minimized the math as much as possible and gave lots of examples in the pattern!
Other skills include single crocheting 2 together, sewing two panels together using the whip stitch, single crocheting evenly around a neckline, working in rounds at the end of each sleeve cuff, and adding ribbing to the panel at the end.
If you are brand new to crochet or need a refresher, check out my how to crochet post here.
Materials Needed
Yarn: Lion Brand's Heartland yarn (Weight 3, 3.5 oz/100g, 232yd/212m) or other Weight 4 yarn

Estimated Yarn Amounts in XS (S, M, L, XL) (2XL, 3XL, 4XL, 5XL):
Cropped Version: 4 (4, 5, 5, 6) (6, 7, 7, 7) skeins of Heartland or 800 (860, 1030, 1140, 1320) (1390, 1630, 1710, 1750) yards
Full Length: 4 (4, 5, 6, 6) (7, 8, 8, 8) skeins of Heartland or 920 (990, 1180, 1300, 1490) (1580, 1830, 1920, 1980) yards

Hook: US 5.5 mm for panels and 5.0 mm for ribbing
Yarn Needle 
Scissors 
Measuring Tape
Stitch Markers
Guage & Size
Guage: (Measured Unblocked)
4" x 4" = 13.5 stitches x 11.5 rows (Unblocked)
Swatch should be slightly larger than 4″ so that you have a larger sample to measure from. This will provide more accurate results.
Size:
Pattern PDF includes a size chart and schematic.
Final Thoughts
This pattern is not only customizable in the sizing, but in color choices as well! So many testers were creative in the colors they chose – whether they used variegated yarn, or a solid color with a different solid color for the ribbing, or used scrap yarn for stripes! Check out the hashtag #PersephonePullover on IG to see them all!
This is one of my favorite things i've made for myself and it was absolutely a tester favorite. I hope you all enjoy the pattern and can't wait to see all of your makes!
If you have any questions, comment down below!
Looking for more garment patterns? Check out the Sierra Crop/Bralette (this one includes a free version here on the blog!)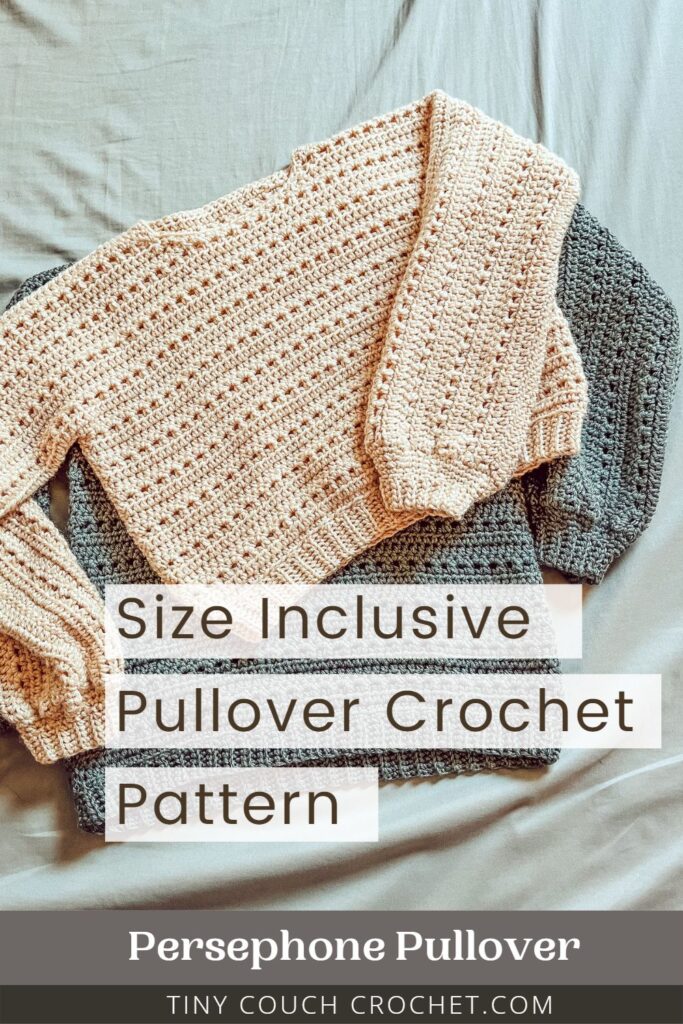 If you make a Persephone Pullover, I'd love to see it! Use the hashtags #PersephonePullover and tag me in social media posts so that I can share! I am @Tinycouchcrochet on both Instagram and Tiktok. Can't wait to see your makes!
-Ashley